It was so fun to have Andreia, Kaitlyn and Titan here for Christmas. We tried to make it enjoyable and memorable. The day after Christmas, we went to the Center for Puppetry Arts. That Sunday, we went to Church at the Branch.
We continued to work in the office part of the time, but snuck in some time with the family.
Titan and Andreia were not up to doing anything some of the time, but Titan got a lot of playing with Grandpa. They read books together. They had Nerf gun target shoots. They just played like they always have and loved every minute.
When the rest of the family was not up to doing things, Kaitlyn and I ventured out. We went to the High Museum and saw the exhibit on the Hapsburgs, but I was more impressed with the exhibit by a young artist. Disguised as clothing, it was fascinating art. The artist actually does have models wear these creations. This one is refinery smoke.
This one is made of acrylic (I think) and looks like splashing water. The artist uses all kinds of processes including 3D printing.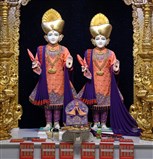 Kaitlyn and I also went to the Baps Swaminarayan Mandir in Lilburn Georgia. I had been there before, but she had not.
We had Honduran food, Brazilian food, Chinese food and Sandy's awesome barbecued brisket.
We went to see the Legos at the Botanical Gardens in Gainesville.
We were able to go to lunch with Sister Abram and her companion. I had always wanted her to meet Kaitlyn because they are so much alike. Kaitlyn and Andreia did not see the similarities, but everyone else seems to. It was so fun to have them all meet.
We made chocolate-covered grapes to give as gifts, but they did not last long enough! We decorated regular-shaped Christmas cookies and ugly sweater-shaped cookies. We had a lot of laughs! We also made pancakes in unique shapes. Kaitlyn got quite good at it.
It was hard to let them go, but we all needed to return to our regular lives.
I keep finding pink flamingoes throughout the house!